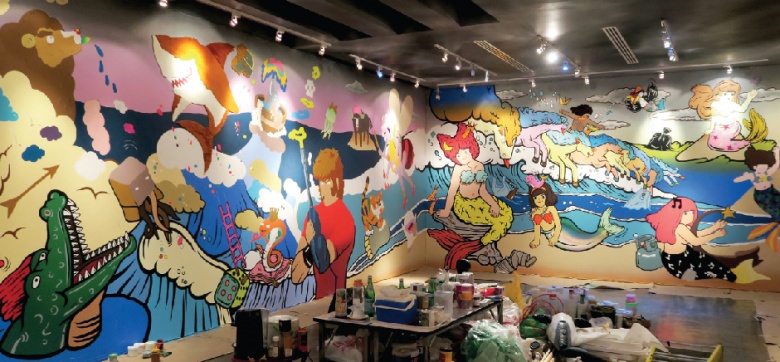 100 Tonson Gallery is delighted to announce the completion of ATMOSFEAR, a site-specific painting installation by Yuree Kensaku.
During the past 4 months, the white cube gallery space of 100 tonson has been transformed into her own alternate universe through the artist's biggest mural painting to date.
Entering the exhibition space, the audience faces with Yuree's outlandish characters, composed together into a stream-of-consciousness-like narrative that reflects a collective of emerging worldwide problems in the public conscious and her own personal struggle, through her humorous and imaginative reinterpretations.
Yuree Kensaku is one of the leading Thai new wave talents whose works are exhibited and collected internationally in the past 10 years with works in the collection of renowned museums such as Mori Art Museum and Singapore Art Museum, and latest with her well received solo showcase at Art Basel Hong Kong 2015. Known for her lively colorful painting with characters influenced by wide range of sources frommythologies, popular culture, Japanese Manga, to folklores and fairy tales, combined with her witty wordplay, resulted into a visual narrative often with unexpectedly serious underlying message.
23 Jun 2016 – 27 Nov 2016